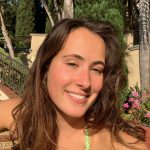 Why Emotional Health Matters and Becoming the Person By: Maria McGlone
You know that person in your life who seems to have it all figured out? They are confident in social settings and excel in academic and work environments. In fact, they seem to never struggle with anything! Watching this person makes you wonder: why am I not there yet? What am I doing wrong? And, worst of all, what if I never get to a place in my life and career where I no longer feel lost? Not only is this person's career on track, but their home and office are clean and organized, they have money in the bank, they eat healthy foods, hit the gym 5 days/ week, have glowing skin, and always seem to be happy. While some of this happiness could very well be endorphins leftover from a previous workout, there is another special quality about this person, namely, high emotional intelligence.
That person was not necessarily born with a natural talent for navigating the workplace and the world. They simply have incredibly well-developed soft-skills, or skills that are applicable to any and all professions). Many of their "perfect" behaviors actually correlate with one of these skills. For example, time-management and planning skills give a person what they need in order to hit the gym more often and meal plan without sacrificing their career. The energy they get from taking care of their bodies can help them during long days at work. Furthermore, happiness and positivity stem from strong emotional intelligence, which allows a person to build healthy social and workplace relationships and stellar conflict resolution skills. Soft skills are what have given that person the confidence and work-ethic they need to accomplish their personal and career goals.
Researchers Orlando Petiz Pereira and Carlos Alberto AT Costa "propose the implementation of diverse pedagogical practices, focusing on interpersonal relationships, communication and personal development. To this endeavor, we believe that all stakeholders in the educational process must be committed to achieving these goals" (http://repositorium.uminho.pt/handle/1822/46211). Through their extensive research, they came to the conclusion that soft-skills training is an essential part of the education process. They have since pushed for the implementation of a soft-skills curriculum in schools.
It is possible that that person was lucky enough to have experiences throughout their lifetime which have allowed them to improve their emotional health. More likely, however, they have put in the work to develop soft skills that increase their productivity and workplace competence. While Success Training Institute, three time soft-skills training company of the year and two time ed tech company of the year, knows that a certain amount of feeling lost and hopeless builds character, they also know the importance of bringing you back into the light. The job market? Scary. And those fears, while not necessarily misplaced, can often hold you back. Soft-skills training can help give you the direction and professional edge you need to become that person, both in your personal and professional life.